We design approaches guaranteed to achieve the unique desired outcomes of your organization through process improvement, facilitated learning, plan development, and project implementation.
When a wind comes up corn stalks do not stand stiff; if they did, the wind would lift the corn from the ground. Instead the corn bends low and when the wind is gone, it returns to it's original position finding its poise and balance once again to continue the work of ripening and delivering the corn.
Coburn Consulting and Resources is much like the wind. We are not here to rip you or your organization from the firmly planted roots, but instead to provide information to enrich your work, your vision, your future. After our work, you will continue to stand strong, or maybe even stronger, and become primed to bear fruit in your own equilibrium.
How this happens depends on your needs. We offer the following services:
For Organizations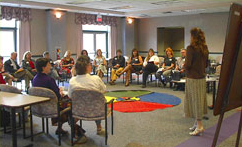 Organizational Culture Assessment
Strategic Planning and Modeling
Implementation strategy formulation
Technology Assessment
Strategic Plan Integration
Grant Development
For Groups
Team Learning Strategies and Effectiveness
Communication Initiatives and Plans
RFP Preparation
For Individuals
Executive Leadership Performance
Personal Mentorship and Coaching